Head For Business

Providing business advice, support and training to entrepreneurs in the
food industry.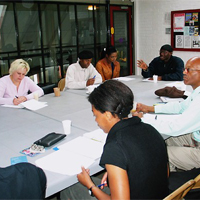 Started six years ago by the National Theatre as part of its 'Art of Regeneration' project, Head for Business regularly provides business advice, support and training to a wide range of entrepreneurs in the food industry.

"Our clients and their needs are very diverse", says Michelle McIntosh, Director.

"They range from individuals making pepper sauces and jams in their kitchens, to others that have established restaurants, provide catering for corporate events and even one client that has appeared as a chef on the BBC's Ready, Steady, Cook with Ainsley Harriott.
"We try to treat everyone as an individual and as well as helping them to write their business plans to obtain funding, much of what we do is one-to-one, listening to their business needs and advising them. Sometimes it's as simple as where to obtain jars and bottles for their pepper sauces or jams, to helping one client take a deep, long look at his flagging take-away business and helping him to restructure into a venture that is much more contemporary, with franchising potential.
"It is interesting that despite being here since the late 50's, West Indian food hasn't really taken off until now", says Michelle. Restaurants such as Indian and Chinese have a long established tradition in the UK both as sit-down and take-away, for Caribbean restaurants this has been more recent, although there have been forerunners such as Humming Bird and Bee Wees in North London.
"Getting the marketing-mix right is often more essential for a Caribbean Restaurant than any other. This is because the raw products such as plantains, yams, ackee, saltfish etc, can be expensive, which in turn can make the price of a meal expensive. And when you can't compete on price, you have to find other ways of competing such as quality of food and the whole dining out experience, which sometimes can be found wanting.
"Our experience of working with food proprietors has placed Head for Business in an ideal position to continue providing business advice and support to people wanting to enter the sector and especially those wanting to start Caribbean restaurants and take-away to take advantage of the growth in the market."