Jam Rock Jamaican

Heidelberg-Wieblingen, Germany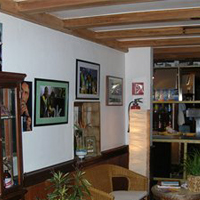 When you visit JamRock, you're in for a treat. Experience our fresh seafood, selected lamb cutlets, scrumptious curry stews or any of our other mouthwatering dishes.
Our chefs are renowned for their creative combinations of spices and sauces. Our warm and charming atmosphere will instantly relax you while our attentive staff spoils you.
Weekly menu specials offer unique flavors and pairings. JamRock is the perfect destination for your next night out, whether an intimate dinner for two or a large group celebration. We serve dinner 6 nights a week.
HOURS:
Mon, Tue, Thur & Fri: 11AM - 2:30PM & 5 PM - 10PM
Sat: 12AM - 11PM
Sun: 1:30PM - 10PM
Wednesday Closed

t: 06221/718 6256
a: Manheimer Strasse 291
69123
Keidelberg Wieblingen
Germany
e: jamrock_wieblingeb@yahoo.com
w: www.jamrock.vpweb.com