Mahogany Products Ltd

Manufacturers of Tex's brand products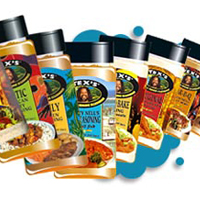 Mahogany Products Limited is the manufacturers of Tex's brand products. Based in Brearley Street, Hockley, Birmingham, Tex is another one of the region's success stories.
They have a distribution deal with Enco, the largest importer and distributor of Afro-Caribbean food and drinks in the UK and Europe. The Tex range has around 19 different products including seasonings and meat coatings.
The seasoning recipes are all based on original and genuine family recipes which originated in the Caribbean and the South of the US and have been in existence for over 70 years. The original chicken coating was the first product launched by the company and is still the most popular of all the products.
Here is a sample of what you can do with Tex Spice products:-
Tex Recipes Stuffing for Chicken, turkey & duck

Ingredients
1 whole turkey, chicken or duck
3 cloves garlic, grated or minced
Tex's Family Chicken Seasoning Stuffing
2 tbsp Tex's Original Fried Chicken Coating
2 heaped tbsp Tex's Family Chicken Seasoning
1 tbsp Tex's Exotic Curry Seasoning
250g sausage meat
250g sweet potato or yam, cooked and crushed
2 medium sized onions, finely chopped
250g breadcrumbs
2 cloves garlic, crushed and finely chopped
Preparation
Combine sausage meat, cooked potato or yam and other ingredients together and mix well. Clean chicken, turkey or duck properly. Mix Tex's Family Chicken Seasoning with garlic and rub well into chicken skin. Stuff with sausage meat and potato stuffing. Wrap loosely in foil and bake until golden brown and tender

Caribbean BBQ Kebabs

Ingredients
500g chicken, cut into bite-sized pieces
500g steak, cut into bite-sized pieces
3 firm ripe tomatoes, quartered
3 onions, cut into chunks
2 sweet red peppers, de-seeded and cut into squares
Marinade
2 tbsp clear honey
4 tbsp oil
1/2 cup tomato ketchup
1/2 cup pineapple juice (optional)
4 tbsp Tex's Barbeque Seasoning (if desired, more can be added to taste)
Preparation
Combine marinade ingredients in a bowl and add both chicken and steak to the marinade mixing well. If preferred the meat can be left to marinade for 1 hour. Remove meat and leave marinade for basting the kebabs. Thread steak, tomatoes, onions, chicken and peppers alternatively on skewers. Cook under a hot grill, turning frequently and basting with reserved marinade as required.