Qualified Chefs banned from working in the UK?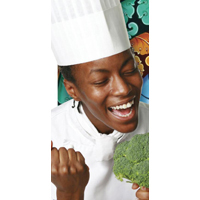 Chefs were amongst a number of occupations cited on the November 2008 UK shortage occupation list. (See below links for details).
If a job is on this list then an employer can offer the job to a person overseas without having first fulfilled the Resident Labour Market Testby advertising the vacancy in the UK.


However this is subject to change at any time. The list came under review this year. Proposed new immigration laws to withdraw work permits from non-European workers may now apply to skilled chefs. Meaning, employers will not be able to recruit migrant workers from outside the EU to fill their vacancies.

People 1st is the sector skills council for hospitality, leisure travel and tourism. They recently undertook a comprehensive research project on catering establishments. This study confirmed that the threat to withdraw work permits from non-EU workers would have a detrimental impact on ethnic catering and dining sector. Up to 15% of non-european establishments believed this would mean changing or reducing standards of cuisine, or closing altogether.

People 1st and the British Hospitality Association (BHA), have been working together to promote the needs of industry to the Migration Advisory Committee(MAC).

Brian Wisdom, chief executive of People 1st commented: "The BHA and People 1st have worked together to research the challenges faced by the industry to this proposed legislation with strong evidence being presented to the MAC to recognise skilled chefs as shortage occupation. This recommendation means that the industry can continue to recruit for the level of skills it needs."

Martin Couchman deputy chief executive of the BHA, adding: "We are pleased to see that the committee has responded to the concerns highlighted by the industry but now employers must play their part. Organisations must apply to be licensed in order to sponsor migrant workers."

There will also be ongoing discussions between these parties and industry partners to understand how the industry manages the transition from importing skills to developing indigenous ones. The recent Compact agreement with government will support the training and preparation of new chefs for ethnic restaurants. Government will also help employers by funding the development and training of members of ethnic communities to get to level 3 under the national framework.
Links
1) People 1st
2) Work permit