Red Gold and Green

St Ouen, France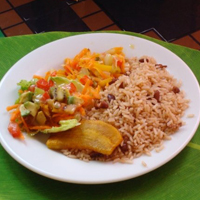 Crepes, Crepes, Crepes! These little delights are everywhere on the streets in France. What's more, they can be filled with a myriad of exciting flavours and textures.
Why not give crepes the Caribbean treatment with a savoury Trinidadian chicken and almond stuffed crepe.
Sandwich the filling between two crepes, place on a baking tray and baked in the oven covered with another tray until the fillig is sizzling hot and the crepes are golden and crispy……MAGNIFIQUE!
t: 01 40 12 36 75 / Port. 06 50 11 39 25
a: 43 Rue Paul Bert
St Ouen
France
93400

e: redgoldandgreen@hotmail.fr
w: www.redgoldgreen.fr