Kitchen Story

Marc Kinder - Dish: Arroz Con pollo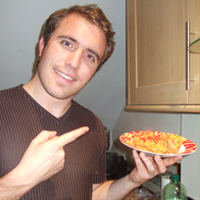 It was not until the fall of 2005 that i could truly say that i had experienced Caribbean food.
Until then, Caribbean food has remained an unopened chapter in my book of International cuisine: that was soon to change.
I am German and even though traditional German food is more foreign to my everyday cooking habits than a medley of Italian, Spanish, and Chinese dishes, I can say with certainty that Caribbean food could not have been more foreign to me than back in 2005.

My first encounter with Caribbean food was on a trip to Miami, Florida where I visited my Cuban girlfriend's family who decided to surprise their German visitor with one of the family's trademark dishes: arroz con pollo. I recall translating it literally and thinking, 'Rice with chicken is nothing to be excited about.' But there is so much more to it than just rice and chicken! It combines basic ingredients such as peppers, rice, chicken, onions, and garlic, with delicious Caribbean flavours such as anchiote. The preparation of the dish also allows for a whole lot of flexibility. It can be made stronger, lighter, grainier, guaranteeing a unique experience each time you step in front of the cooker.
That dish has gone on to be the one Cuban dish I would prepare for everyone I care about. There has not been a single person who could resist licking his or her fingers afterward. My star Cuban dish has not let me down!
Of course, I have learned to cook many other Cuban dishes including vaca frita and ropa vieja and I enjoy the satisfaction in my guests' faces. Vaca frita" (fried cow) and ropa vieja (old clothes) are two of the Cuban dishes most widely recognised internationally. No one can say they know Caribbean cuisine unless they try them at least once. (But be warned: once is never enough!)
A recent trip to the voluptuous streets of Old Havana brought all the riches of this cuisine to me. In the local food market, the pungency of herbs and spices filled the air. Cuban traders were happy to discuss culinary experiences with me, helping me understand their food's history better. It made me all the more anxious to dig in to a locally prepared dish! And no… one dish was not enough!
If you can't wait to get to Cuba before you try arroz con pollo, please see it and several other Cuban recipes in this edition.