Vanessa

Mahoe Cafe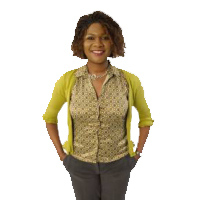 People make career changes frequently but how many give up a successful, highflying career as a lawyer to open a cafe? Well, someone who did just that is Vanessa Hutchinson, and she has no regrets. A year ago, Vanessa was working in London's business and finance hub, the City, as a corporate lawyer. Now, Vanessa has just celebrated a year as the proprietor the Mahoe Café – actually, less of a cafe and more of Caribbean getaway.
Situated in the heart of the UK's financial district in London, the Mahoe Cafe is a relaxed place where people can have a taste of the Caribbean, which infuses everything from the atmosphere and interiors through to the great food and well-renowned, rum-flavoured drinks. 'I think its unique selling point is this Caribbean inspiration - from the Jamaican artworks on the walls, the platters on which we serve the food which are made out of the Blue Mahoe wood (the cafe's namesake), to the music we play, the overriding theme is Caribbean,' explains Vanessa.
'I wanted a nice, relaxed place where people could go for anything at any time of day and which was inspired by the lovely things from the Caribbean with great food, drinks and atmosphere,' she continues'.
For those who thought the City sleeps on a Sunday, Mahoe Café has changed all that! There is a very popular eat-as-much-as-you-like Sunday brunch, held every first Sunday of the month. The word has spread about Mahoe Café's brunch dishes such as jerk chicken or escovitch fish.
'Our platters are also really popular, they are the signature dishes of the cafe. There's the guava jerk chicken wing platter, the saltfish fritters platter and the big meat, vegetable or carbohydrate platters. We really dress the place up with hibiscus flowers, banana leaves, have steel pans playing and make it look and feel real traditional. I think that's a huge part of our brand. I really love the business.'
With plans to build on the Cafe Mahoe brand further in the future, it looks like there's no stopping Vanessa right now.
t: 0207 489 9895
a: 74-82 Queen Victoria Street
Bow Lane
London
EC4N 4SJ
w: www.mahoecafe.com

<< back to Who's Who